Willow's Whisper – Lana Button
Willow's Whisper – Lana Button
Willow's Whispers
written by Lana Button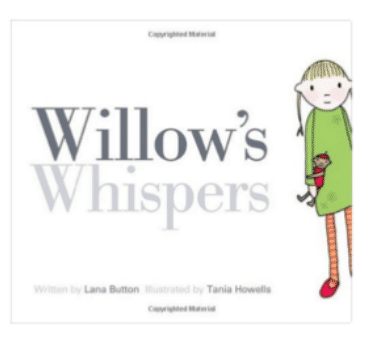 Synopsis
When Willow speaks, her words slip out as soft and shy as a secret. At school, her barely audible whisper causes her no end of troubles. But Willow is as resourceful as she is quiet, and she fashions a magic microphone from items she finds in the recycling bin. But Willow's clever invention is only a temporary solution. How will this quiet little girl make herself heard?*
*Synopsis taken from book
Idea: Students can create their own microphones using paper-towel rolls.
Idea: Instead of buying expensive "phonics phones", you can create your own "phonics phones" to use with the class. Get two PVC right angle pieces and a straight piece of PVC tubing about 2 inches diameter. Cut the tubing to a length of approximately 4 inches. Twist on the right angle pieces – one on the top and one on the bottom. That's it! Ready to use! It is amazing how the voice is magnified!
Now have the student place one end to the ear and the other at the mouth, like a phone, to listen to himself or herself read. Additionally, they can angle the top piece away from their ear so a partner can sit close and place that end at their ear to hear the other person read.