Pinduli – Activity #3: "Classroom Mascot"
Pinduli – Activity #3: "Classroom Mascot"
Activity #3: "Classroom Mascot"
Students will help create one large classroom mascot that will remind them to keep their classroom a ridicule-free classroom, without hurtful comments or behaviours. The mascot represents how the class will behave and treat one another.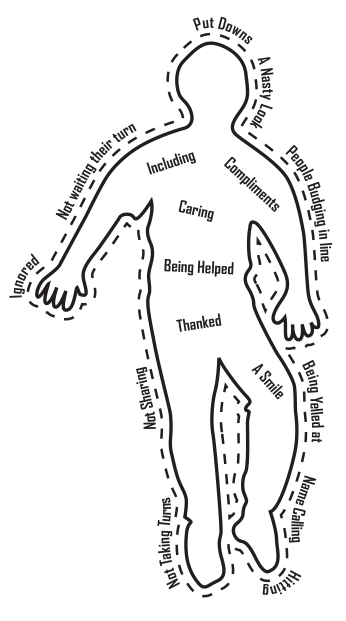 Materials:
Large sheet of white paper (from paper roll)

Black felt pen
Teacher Preparation:
Step by Step:
Step One: Brainstorm ideas about a time when the students felt cared about, respected and safe being themselves in front of their peers. Ask the following kinds of questions: What was it about your peers that made you feel respected? Cared for? What did they do? What did they say?
Step Two: Have a student lie down on the large sheet of paper and have a few other students trace the outline of their body.
Step Three: Once the tracing is complete, cut the mascot out – but be sure to cut at least three inches wider than the traced line.
Step Four: Brainstorm a name for your new classroom mascot.
Step Five: Once the mascot is ready, have the students brainstorm ideas about what behaviours or actions, words or attitudes would make the classroom a ridicule-free, caring and respectful place.
Step Six: Have each student come up and write one of the words/phrases on the INSIDE of the classroom mascot.
Example – sharing, listening, waiting my turn, no put-downs, being included, smiling, being thanked, etc.
Step Seven: Brainstorm ways of behaving that would not be a part of this respectful, caring classroom.
Step Eight: Have each student come up and write one of the words/phrases on the OUTSIDE of the classroom mascot (outside the traced line).
Example – being ignored, people budging in line, being yelled at, a nasty look, not waiting your turn, being mean or saying mean things, being punched, etc.
End Product:
Hang up the classroom mascot in a place where everyone can see it. Put up a stop-sign shaped poster that reads: Ridicule-Free Classroom. Teacher refers to the mascot every time he/she observes excellent behaviour that is caring, responsible, and respectful.