Maddi's Fridge – Activity #3: "Promises and Forgiveness"
Maddi's Fridge – Activity #3: "Promises and Forgiveness"
Activity 3: "Promises and Forgiveness"
The purpose of this activity is to be more aware what a promise means and what it means to forgive. From that discussion the students will generate words that identify with the word "PROMISE" and "FORGIVE".
Materials:
Blackline masters

Chart paper

Felt pens
Teacher Preparation:
Photocopy blackline masters (12 copies of each)

Put up the chart paper for brainstorming ideas.
Step by Step
Step One: Discuss what the promise was that Maddi asked Sophie to keep. Why did Maddi want it to be a secret?
Step Two: Discuss what efforts Sophie went to on her own to try to keep the promise. Why did she tell her mom and not keep the promise? Elicit that sometimes secrets shouldn't be kept and children need an adult's help.
Step Three: Discuss what it means to forgive someone. What does it look like and sound like? Why did Maddi forgive Sophie for not keeping her promise?
Step Four: Was there a time when you had to break a promise? Did the person forgive you? Was there a time when someone broke their promise to you? Did you forgive the person?
Step Five: Tell the students that they are going to each create an acrostic. An acrostic is a form of writing that uses the initial letters in the main word to generate other related words. The main words (in this lesson are: PROMISE and FORGIVE) are written vertically and the generated words are written horizontally.
Step Six: Brainstorm a list of words that relate to PROMISE. Print the words on a chart paper. Now print the word PROMISE vertically on another chart paper (or the white board). Pick words from the brainstormed list that can use the letters in PROMISE. See sample below.
Step Seven: Repeat Step 6 for the word FORGIVE.
Step Eight: Divide the class into two groups. One half of the class will each do an acrostic for the word "PROMISE' and the other group will do an acrostic for the word "FORGIVE". Handout the photocopies of the blackline masters for the students to complete their acrostic on. (Note: you could have the students work with a partner.)
End Product:
Students will have created an acrostic using a variety of descriptive words for their topic word.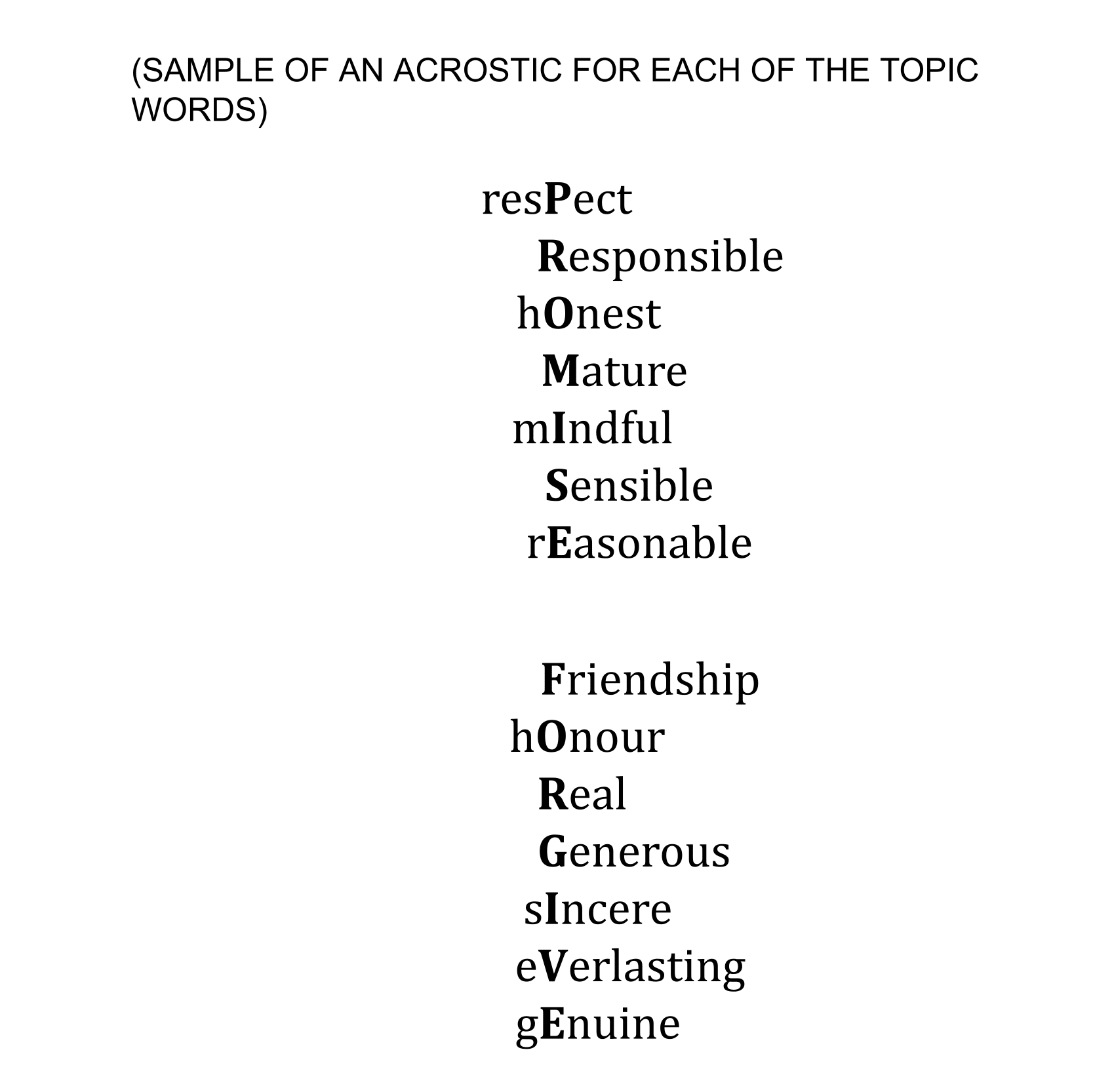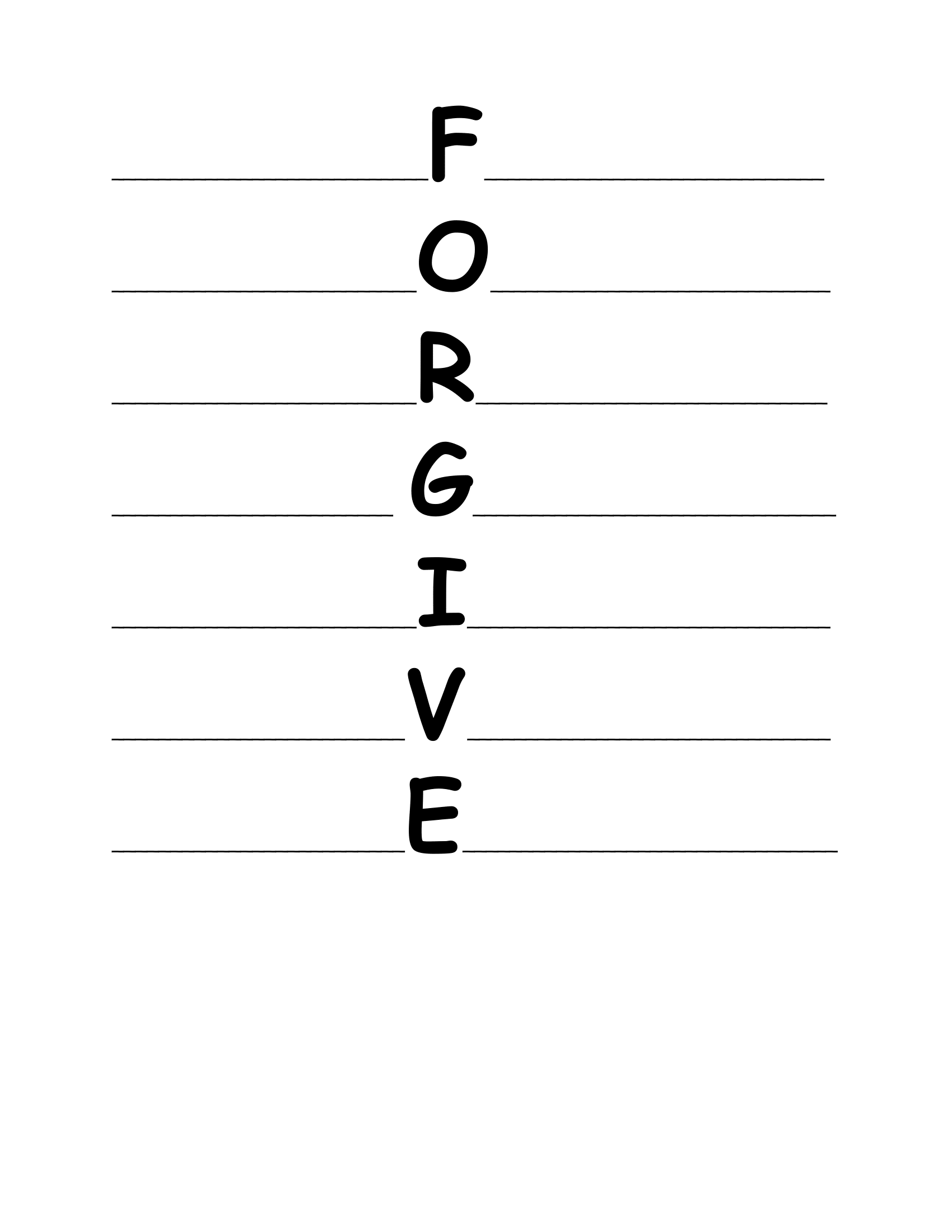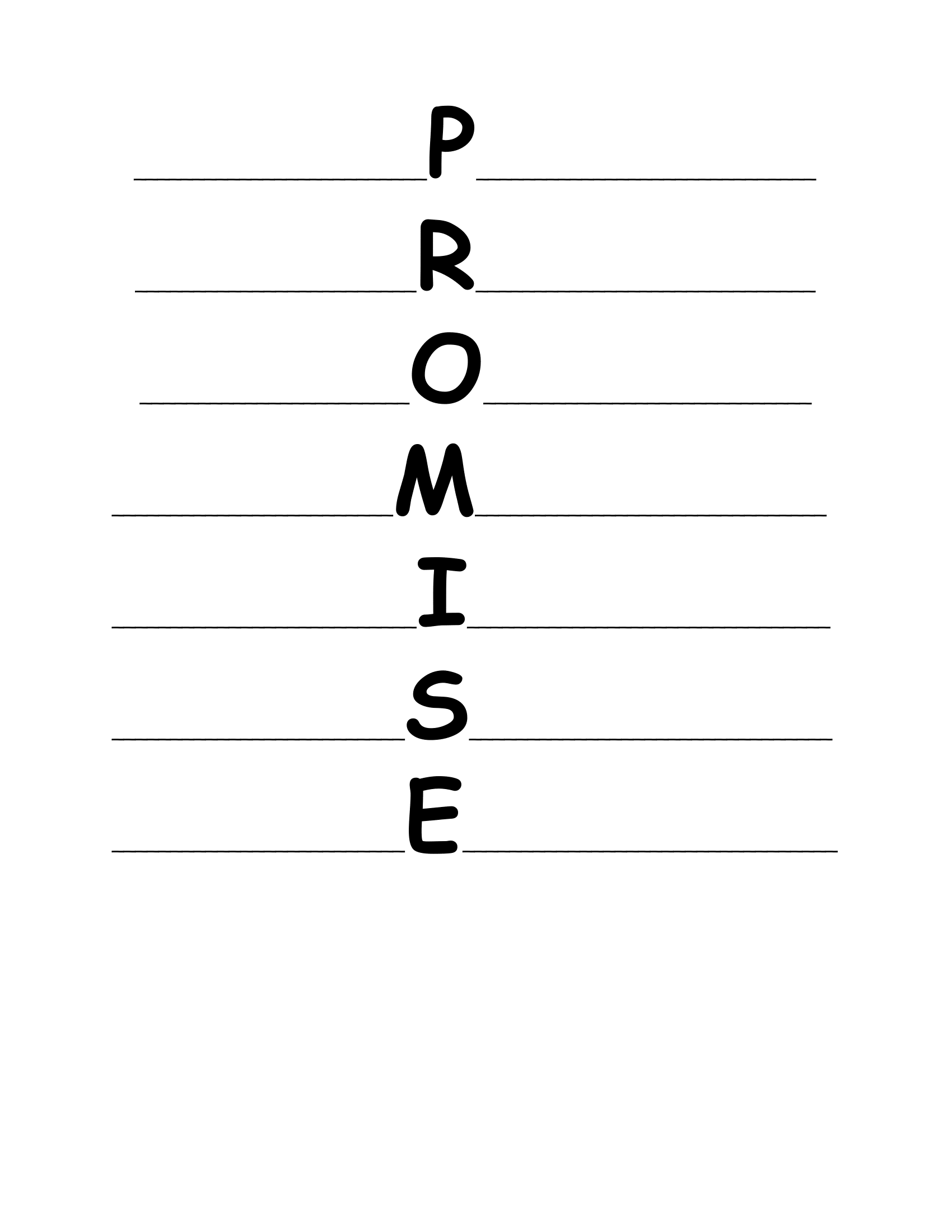 3 - Maddi's Fridge #3