Additional Books
Additional Books To Enrich Your Program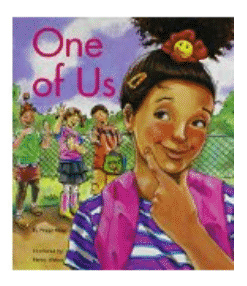 One of Us – written by Peggy Moss
Synopsis
Roberta moves to a new school and is invited to join the straight-up hair group. That is until she learns that they don't play on the monkey bars, which she loves. As Roberta moves from group to group, she feels like she just doesn't fit in with any of the groups of kids. Then Roberta discovers a group of kids who are just like her where everyone can be themselves and they like it that way!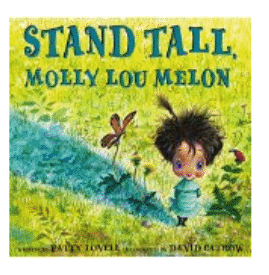 Stand Tall, Molly Lou Melon – written by Patty Lovell
Synopsis
Be yourself like Molly Lou Melon no matter what a bully may do. Molly Lou Melon is short and clumsy, has buckteeth, and has a voice that sounds like a bullfrog being squeezed by a boa constrictor. She doesn't mind. Her grandmother has always told her to walk proud, smile big, and sing loud, and she takes that advice to heart. But then Molly Lou has to start in a new school. A horrible bully picks on her on the very first day, but Molly Lou Melon knows just what to do about that.*
*Synopsis taken from book
Red: A Crayon Story – written by Michael Hall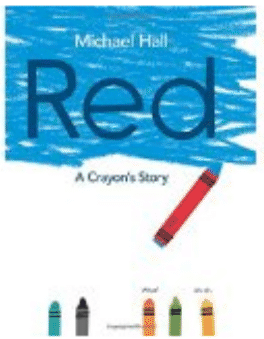 Synopsis
This story deals with a blue crayon that suffers an identity crisis when it is mistakenly labeled as "red". Michael Hall's story is about being true to your inner self and overcoming obstacles as you follow your own path to your true self.
Red is a crayon with a bright red label but he is actually blue. Despite the efforts of his teacher, mother, and even the scissors that try to help by cutting off his label, Red is still unhappy. No matter what he tries, he just can't be red. Finally Red meets a new friend who helps him discover that he is actually blue!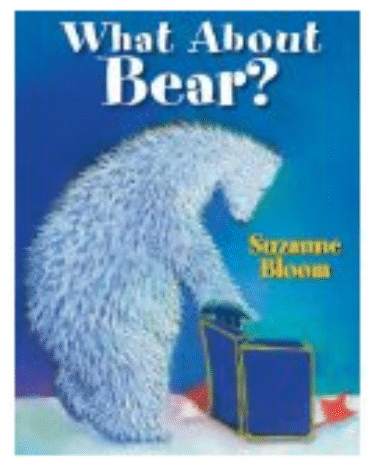 What About Bear? – written by Suzanne Bloom
Synopsis
This is a great book to help deal with the familiar aspect of friendship where somebody is feeling left out. Bear and Goose are having fun playing together but when Little Fox joins in, somebody gets left out. The problem of choosing one friend over another is dealt with by showing the solution lies in including friends, not excluding them.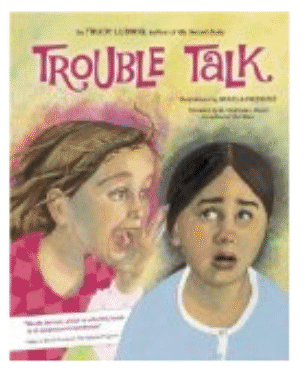 Trouble Talk – written by Trudy Ludwig
Synopsis
Maya's friend Bailey loves to talk about everything and everyone. At first, Maya thinks Bailey is funny. But when Bailey's talk leads to harmful rumours and hurt feeling, Maya begins to think twice about their friendship. The author deals with "trouble talk" when someone is talking to others about someone else's troubles in order to establish connection and gain attention.*
*Synopsis taken from Amazon.ca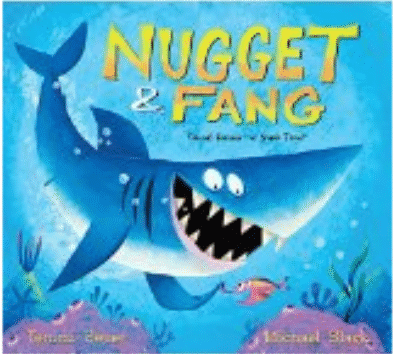 Nugget and Fang – written by Tammi Sauer
Synopsis
This is a delightful story for Kindergarten and Grade One students. Nugget and Fang are the best of friends until one day Nugget goes off to minnow school where he is being taught that minnows and sharks can't be friends! Fang tries desperately and hilariously) to show that the things being said about sharks don't apply to all sharks and he can be trusted. Then one day the entire school of minnows are in serious trouble and Fang saves them from danger. The minnows see that Fang is indeed a good friend and not someone to be feared.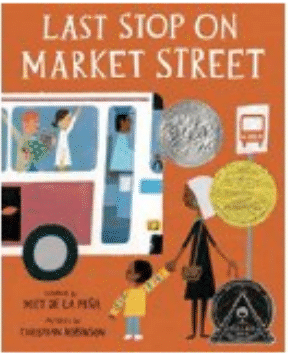 Last Stop On Market Street – written by Matt De La Peña
Synopsis
Every week CJ rides the bus across town with his grandma. But one day, CJ begins to question why they don't own a car like his friend? Why doesn't he have an iPod like the other boys on the bus? Why do they get off in the dirty part of town. CJ's grandma helps him to see the positive aspects of the world they live in and encourages CJ to see the beauty and fun.