Enemy Pie – Activity #4: "Our Very Own Tree House"
Enemy Pie – Activity #4: "Our Very Own Tree House"
Activity #4: "Our Very Own Tree House"
In this activity, students create their own paper tree house as they review words that describe a friend. This activity also helps students understand a number of activities that they can do with a new friend.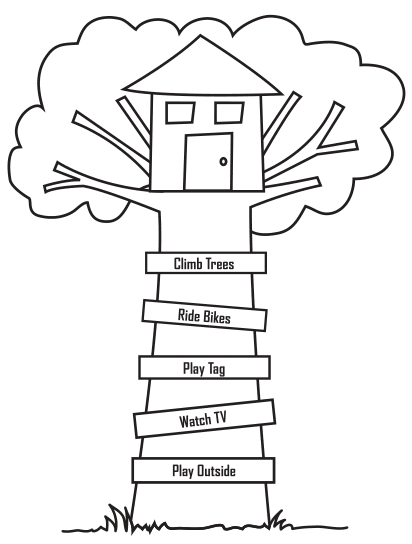 Materials:
Various colours of construction paper

(black, brown, blue yellow, green, pink, etc)

11 x 17 light blue construction paper

Thick black felt pens

Glue

Scissors

Pictures of tree houses
Teacher Preparation:
Have additional photos of tree houses ready to display (from other books, magazines, etc).

Divide the students into groups of 3 or 4.
Step by Step:
Step One: Review all the things that describe a friend. Refer to the chart that displays what a friend looks like, sounds like and feels like. Brainstorm activities that students can do with a friend.
Example – ride a bike, play tag, play board games, share a recess snack, swim, play hockey, etc.
Step Two: Display a picture of a tree house and point out all the features of a tree house (within a large tree, rungs going up the tree to the tree house, made of wood, etc).
Step Three: Provide each group with all the necessary materials. Each group is to work together to create one tree house.
Step Four: Using their imaginations, students cut out shapes from the various colours of construction paper to create the tree, its leaves, and the tree house. They may also cut shapes to create a 'nature scene' around the tree.
Step Five: All of these shapes are to be assembled and glued onto the 11×17 light blue construction paper.
Step Six: Have the students cut small rectangles out of brown construction paper to be the rungs of the ladder leading up to the tree house. On each rung, students are to write examples of things they can do with a friend (play outside, go to a movie, etc). Glue the rungs to the tree trunk.
Step Seven: Using a black felt pen, students outline the inside of each piece of construction paper which helps make the picture 'pop' out and look effective on a bulletin board.
End Product:
An outdoor portrait of a tree house, modeled after the one in the story. Students have worked together to create their tree house with great ideas of what they can do with a new friend.