In My Heart – A Book of Feelings – Jo Witek
In My Heart – A Book of Feelings – Jo Witek
In My Heart – A Book of Feelings
written by Jo Witek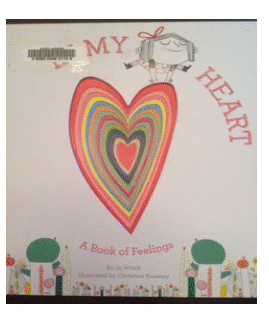 Synopsis
A book of feelings that explores the different feelings the heart feels in a variety of situations.
Activity
This is when my heart is…
Read the book to the class. What colour do you feel if you were ____________?
Have students complete the writing activity:
I feel (colour word) when I __________________________________.
On a square piece of paper, outline a heart shape with an oil pastel. Make sure the line is heavy.
Rub outward to blur the line.
Have the student draw a line (straight, curve, jagged, wavy, etc) on the white square. It can be anywhere on the paper. Write the sentence they created along the line they drew. Trace the words in fine line black felt pen.
Use chalk pastel to rub across the background.
See below for student samples: