The Little Engine That Could – Activity #5: "Pupils Positive Pledge"
The Little Engine That Could – Activity #5: "Pupils Positive Pledge"
Activity #5: "Pupils Positive Pledge"
This activity helps the students become aware of the impact of kindness by creating a classroom pledge of kindness.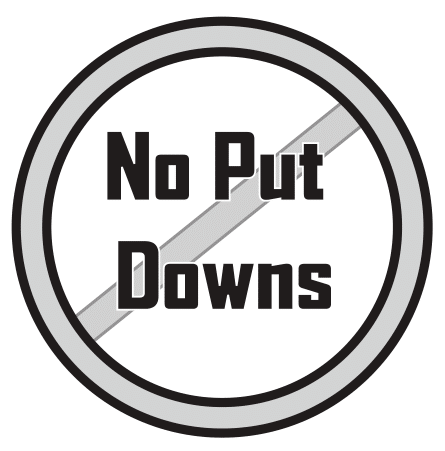 Materials:
Chart paper

Felt pens

Tag board

Crayons

Scissors

Safety pins (for each student)
Teacher Preparation:
Cut enough 3.5-inch circles for each student
Step by Step:
Part 1 – The Verbal Pledge
Step One: Discuss with the students that the classroom does not tolerate the use of any unkind words.
Explain what a pledge is. Tell the students that they are going to promise that they will not

use these unkind words.
Step Two: Brainstorm positive and kind phrases that could be used as a class pledge. Record the ideas on chart paper.
Examples of classroom pledges:
I promise to be kind and caring to everyone today.

We treat others with kindness.

This is a class where we all care.
Step Three: Once the pledge is established, have the students stand and repeat it a couple of times. Repeat on a daily basis for at least one week.
Part 2 – Pledge badge
Step One: Provide students with a circle cut-out.
Step Two: Students write "No Put Downs" or any other positive phrase on the badge.
Step Three: Students colour/decorate the badge.
Step Four: Teacher assists in pinning the badges to the students' shirts for the day.
End Product:
A classroom verbal pledge of kindness that is reinforced by a class-set of kindness badges. The teacher may collect the badges and bring them out another day.